天太防水科技
品种齐全质量保障
山东天太防水科技有限公司是集科研开发、生产销售和设计施工于一体的防水材料企业。公司设备先进,技术力量雄厚,产品品种齐全。
公司主要生产"天太"牌各种防水材料,包括:改性沥青防水卷材、自粘系列防水卷材、耐根穿刺系列防水卷材、高分子系列防水卷材、防水涂料系列等五大系列。产品有SBS、APP改性沥青防水卷材、彩色沥青瓦(彩色自粘沥青瓦、聚乙烯丙纶复合防水卷材、自粘橡胶沥青防水卷材、快速反应粘强力交叉膜防水卷材、道桥用改性沥青防水卷材、聚氯乙烯( PVC )防水卷材、热塑性聚烯烃TPO防水卷材、三元乙丙橡胶防水卷材、单/双组份彩色聚氨酯防水涂料、JS复合防水涂料、水泥基渗透结晶型防水涂料、高弹丙烯酸防水涂料、堵漏灵、非固化橡胶沥青防水涂料等100多个品种。

公司通过ISO9001国际质量体系认证,具有完善的质量保证体系和完备的售后服务体系,并获得ISO14001环保体系认证,本公司产品是国家权威检测合格品,取得山东省质量检验协会"向社会推荐新产品"证书;取得了山东省建设委员会颁发的"推广许可证", 并取得了多省市备案证。我公司是"重合同、守信用单位"; 被寿光市消费者协会评为"消费者满意单位"。
我们以"团结、务实、诚信、 创新"为企业核心理念,以现代化的经营管理机制,走"名牌兴业、产业报国"之路。公司以质量求生存,以信誉拓发展,真诚欢迎各界朋友光临。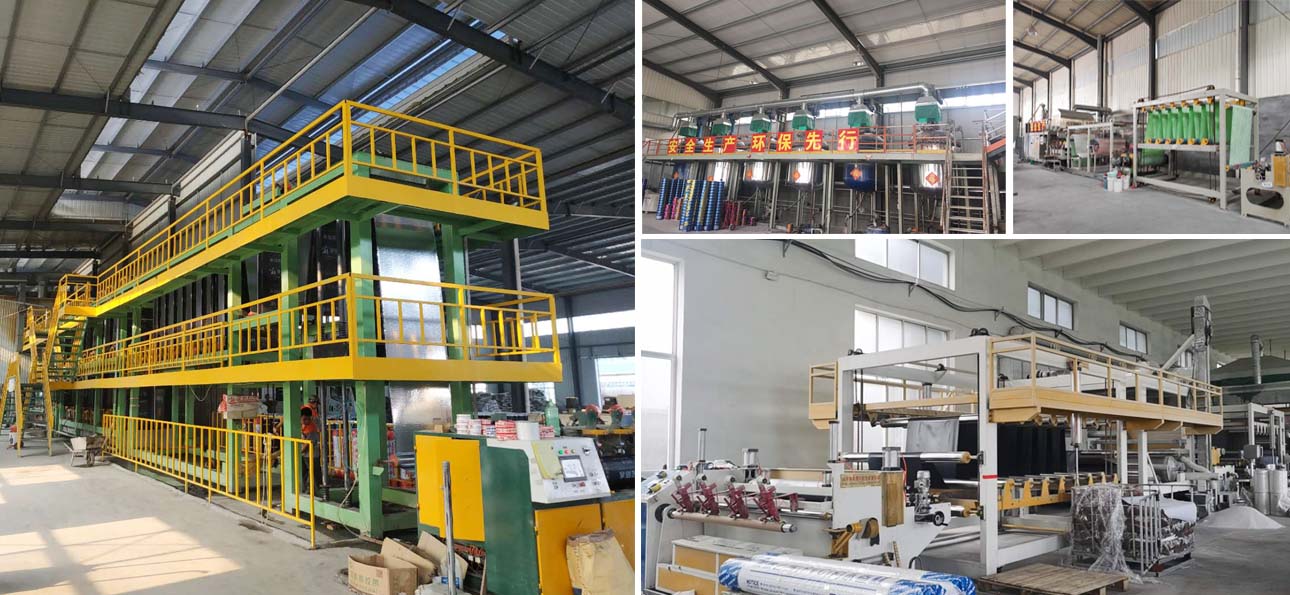 Shandong TianTai waterproof material co., LTD. Is located in "China building waterproofing industry base" "China building waterproof of the township" -- shouguang in shandong province industrial park, covers an area of 3000 square meters, owns more than 50 employees, with eight of the world's leading waterproof coating, waterproof coiled material automatic production line, production of five major categories of more than 40 kinds of products, is a set research and development, production, sales and construction of waterproof material production in a body's modernized enterprise. Company spirit of "integrity, innovation, win-win" business philosophy, dedicated to the pursuit of quality first, service first, to implement the brand, scale, making the first brand of Chinese waterproof coating, waterproof career services in China.
Company to introduce advanced testing equipment, in order to ensure product quality one hundred percent qualified dismissed solid foundation, the company with waterproof coating as the core, with spraying quick-setting rubber asphalt waterproof coating, the curing rubber asphalt waterproof material, infiltration epoxy resin waterproof, moisture curing environmental protection polyurethane waterproof coating, inorganic silicon waterproof materials, a new type of polyurethane waterproof coating, has more than 100 sales and service outlets across the country, with high efficiency, excellent service to meet the demand of all parts of the country is waterproof coating, demand. At the same time, the company has customers in the country more centers, strictly control the company's production, circulation, the construction of each link, let customers one hundred percent satisfaction.
TianTai company established a sales network all over the country, and is equipped with waterproof material agencies, project construction group a total of 110. At the same time, with reliable quality, excellent after-sales service, the company has with Evergrande wanda real estate, real estate, China railway seven innings, build a great building, shandong and so on more than 50 national real estate enterprises established long-term strategic cooperative relations. "Tian & Tai" brand series waterproof coating in the water cube, the Yellow River xiaolangdi, Qingdao jiaozhou bay tunnel, the British embassy, ha big highway, rong wu highway, Beijing subway, hangzhou metro, shenzhen metro, an HSR, Qingdao subway, haier group and yili group are widely applied in large-scale key projects both at home and abroad, won the praise of users, experts have been, total have infiltrated the whole construction industry. At the same time the company also provides OEM OEM, products are exported to east Asia, the Middle East, North America and Europe and other places.
Companies comply with the national industrial policy, waterproof career problem solving have made outstanding contributions to the nation, adopt modern management mechanism, in order to "unity, pragmatic, integrity, innovation" as the enterprise core concept, "quality products, quality service" as the enterprise objective, work standard, "customer satisfaction" as the enterprise finally perfect complete waterproof project as the ultimate goal. The general manager Xu Shougang together with all staff is willing to cooperate sincerely with friends from all walks of life, create brilliance!